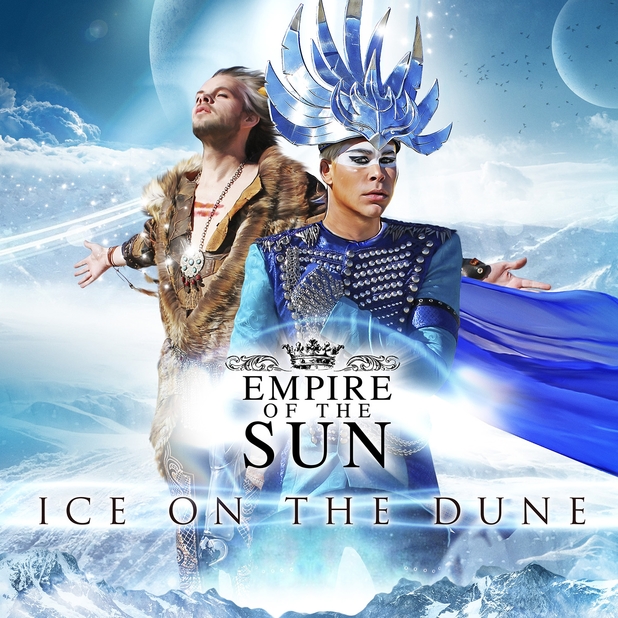 Released June 14, 2013
If two words perfectly describe Empire of the Sun's new release
Ice on the Dune
, "ice" and "dune" aren't far from the mark.
Mixing crisp melodic synth, round, deep bass, and hypnotic vocals over laid-back, surf-rock beats, the Australian duo's sophomore release serves up a chilled-out dish equally suited for afternoons on the beach and evenings on the town.
In many ways, the album represents a more refined edge to what producers Luke Steele and Nick Littlemore presented in their last release, 2008's double-platinum
Walking on a Dream
, whose title track won single of the year in Australia's ARIA Music Awards of 2009.
While
Walking on a Dream
had its hits, this release takes a step towards icy refinement.
Throughout the new record, tracks consistently boast a driving dancablity from one to the next, smoothed over with sensual vocals, and tightened together with a sharp synth present throughout.
Tracks like the
Alive
and
Surround Sound
are the perfect iced drink for both days in the sun and nights out.
Ice on the Dune
certainly boasts an impeccable taste for detail in both production and melodic choice.
However, if you're picking up this album for your own listening, be aware that the intro track to the record says very little about the content of the release itself.
As an attempt as an orchestral intro,
Lux
does very little in conveying the mood for the rest of the pieces and comes across soft and fantastical rather than crisp and icy like the rest of the tracks.
And if you're a sucker for lyrics, don't expect to be blown away in that category, either, provided you can hear all of them.
But, let's be honest – Empire of the Sun's fun, precise style invites us to dance more than anything else.
As a whole, the album feels like an iced drink, sweating in the sun or a breeze off of Superior on a hot summer day.
Recommended tracks:
Alive
,
Awakening
,
Surround Sound
Similar artists: Miike Snow, MGMT, Pnau, Phoenix